What is this?
The Open Workshop in Unser Aller Wald is located at a height of 4 metres and can only be reached via a ladder. A more barrier-free access is possible on request – in any case, adventure potential is there! The workshop is the starting point for a variety of activities: Here you will find everything you need to build and can let off steam to your heart's content. From the wilderness nature trail, bicycle repairs or more Tiny Houses, many projects are already represented – get involved and realise your project here in consultation with us! We look forward to seeing you!
Why is there an open workshop?
With the open workshop we want to create a place that supports politically active people in the region in their political work – above all through its function as a meeting place! We are in contact and continue to invite people from the region in particular to participate in the project and to bring their thoughts and goals to us.
What is the open workshop equipped with?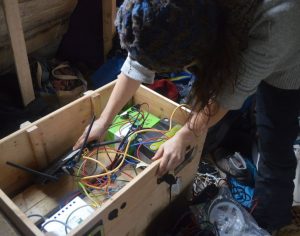 In particular, the workshop has tools that it needs for wood construction projects. The special thing: All construction steps are mastered either by hand or with battery-powered tools! For example, there are several cordless drills, a cordless jigsaw and circular saw, nails, screws, hammers, hand saws, measuring tools and much more on site. Lots of space to try things out and let off steam guaranteed!
Who can join in?

First of all, anyone with an enthusiasm for handicrafts, ideas for new projects or simply an interest in what is happening here can join in. Depending on the situation of the COVID-19 pandemic, there are various events;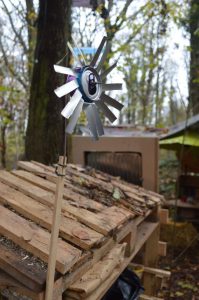 for example, the "Brunch under the Workshop" or participatory building weeks, to which we cordially invite (current information on the accessibility of the workshop on the main page of Unser Aller Wald).
So, infection permitting, we say: come along, show your interest and join in the conversation!